The Audubon Society Guide to Attracting Birds: Creating Natural Habitats for Properties Large and Small (Paperback)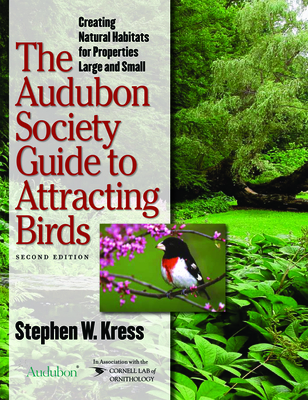 $24.95

Usually Ships in 1-5 Days
Description
---
Improving the quality of land for wildlife is the single most constructive step that anyone can take to assist wild bird populations. Happily, it is well within almost everyone's capability to improve bird habitats by providing important food and cover plants. Through this book, I will assist caring landowners and managers of properties ranging in size from urban balconies and suburban backyards to larger properties such as country estates, schoolyards, cemeteries, corporate parks, airports, golf courses, wildlife refuges, and parklands of all sizes. Managers of agricultural land, greenways, and vacant lots alike will find inspiration and techniques within these pages that will help them carry out the urgent and satisfying work of improving land for wild birds.--from the Introduction
In the second edition of a book treasured by landscapers, birders, gardeners, and naturalists, Stephen W. Kress provides a practical, comprehensive, and thoroughly illustrated guide to attracting birds to any property, be it a small patch of land in the city or a showplace countryside garden, a median strip or an expansive woodlot, a commercial building or a community park. In Kress's view, the best way to attract birds is to enrich habitats by improving vegetation, natural foods, water supplies, and nest sites. Drawing on decades of experience, Kress offers a remarkable variety of techniques and resources for habitat improvement.
This book:
-addresses the special needs of managers of large properties, giving them a toolbox of strategies for habitat restoration;
-organizes his suggestions by habitat type, such as forest, grasslands, and shrublands;
-offers advice for selecting native plants by region;
-details the importance of wetland conservation;
-discusses the safe use of pesticides and fertilizers;
-provides useful information on nesting structures and feeding stations; and
-lists plant vendors and print and online resources for further study.
Throughout, Kress emphasizes responsible environmental stewardship. The second edition of The Audubon Society Guide to Attracting Birds will help readers reach their goal of designing their own landscapes for the benefit of wild birds.
About the Author
---
Stephen W. Kress is Vice-President for Bird Conservation, National Audubon Society. He also directs the Audubon Seabird Restoration Program, which develops innovative techniques for restoring puffins, terns, and many other species of seabirds. He also teaches field ornithology classes at the Cornell Laboratory of Ornithology and the Hog Island Audubon Camp in Maine. In addition, he is the author of many books, including The National Audubon Society North American Birdfeeder Guide, The Bird Garden, and The National Audubon Society Birder's Handbook, as well as many scientific papers about seabird restoration..